Are you looking to have teeth in a day or some type of treatment that replaces all of your teeth at once? Boca Raton All-on-4 dental implants are a predictable and affordable implant solution designed to replace missing teeth in your upper or lower arches with one streamlined appliance.
Instead of wearing a removable denture, All on Four same day dental implants are a fixed hybrid appliance. The "U" shaped contour of the extended bridge follows the entire length of your upper or lower jaw. But its streamlined shape only covers the surfaces where your teeth are intended to be — not the roof of your mouth. Because of this unique shape, you get to enjoy:
Efficient tooth replacement

A permanent alternative to dentures

More natural look and feel

Underlying support of your lips and cheeks

Improved aesthetics

An easier time talking and enjoying your foods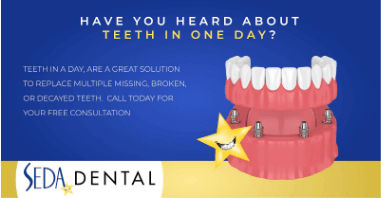 Implant Safety and Reliability

Today's dental implants are considered to be the most successful and predictable restoration used in modern dentistry. In fact, implants have a 98% success rate and are designed to last for the rest of your life. With great care and maintenance, you can expect your investment to be one that you'll feel confident making.
Plus, dental implants are physically stronger than natural teeth. This allows our Boca Raton implant dentist to use as few as four strategically-placed implants to support an entire full arch prosthesis (hence the name, "All-on-4.")
But implants are also great for replacing single teeth. When we set an implant in the location where your tooth is missing, we can top it off with a ceramic crown so that it blends in with the teeth around it. This unique characteristic is what makes implants non-invasive to your smile and one of the healthiest treatment solutions for tooth replacement.
In instances where you have a few teeth missing but don't need to extract existing healthy teeth, we can place a pair of implants to support a multiple-tooth bridge. That way you don't need to wear a removable partial denture.
Caring for Your All-on-4 Appliance
To ensure the success of your dental implant treatment, it's important to brush and floss around each implant daily. You may want to invest in a water flosser (or floss threaders) to help clean hard-to-reach areas under your All on Four denture.
Use a non-abrasive toothpaste to brush your restoration twice a day.
Continue planning checkups every six months to have your restoration cleaned and examined by our Boca Raton implant dentist. Since the main cause of implant failure is related to an implant-specific form of gingivitis, good oral hygiene and ongoing preventative care are crucial.
Although dental implants aren't a cosmetic dentistry procedure, the custom designed restorations — when well cared for — can give you a beautiful smile that lasts for years.
Choose the Best Implant Dentist in Boca Raton
The experience and training of your implant dentist has a tremendous impact on the outcome of your tooth replacement treatment. At SEDA Dental, we have Boca Raton implant specialists in our network of practices, so that you can get expert care when you need it. There's no need to send you to a specialty clinic or oral surgery center.
With implant specialists as part of the SEDA team, you can enjoy more efficient care and better implant costs, saving you money over the course of your treatment.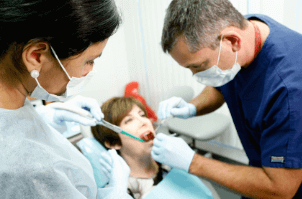 Are Same Day Dental Implants Possible?

SEDA Dental provides specialized same day implant treatments near Boca Raton for our patients requiring expert care. In instances such as same day dental implants or "teeth in a day", we carefully plan out your implant placement and fixed restoration in advance of your surgery date. That way you have some type of prosthesis to wear on the same day that your implants are installed.
However, it's likely that our Boca Raton implant dentist will need to adjust your bite or prosthesis and replace it with a permanent one once your mouth has fully healed. This could be a few months after your same day implant procedure.
What's the Average Price for Implants?
Using pairs of implants to support multi-tooth restorations (like All-on-4) makes tooth replacement costs more affordable. For example, it's cheaper to get four implants and a full-arch hybrid denture than it is to replace all of the upper teeth with their own individual dental implant and ceramic crown.
When you visit SEDA Dental for an implant consultation, we'll provide you with a treatment estimate that outlines all of the costs involved and your applicable insurance coverage. Flexible financing plans are also available.

Since dental implants outlast all other types of tooth replacement restorations, making the investment in your smile is one that practically pays for itself over the course of your lifetime. For more information on dental implants Boca Raton, request your no-hassle consultation today!