Do you need a fast tooth replacement option? Our Boca Raton teeth in a day implants are a predictable and successful solution for our patients with missing teeth.
More commonly referred to as "All-on-4", teeth in a day are a good alternative to dentures. Instead of wearing a plate that you take out at night, All on Four implants become a permanent part of your smile. In fact, they help strengthen the bone in your mouth and the implants are stronger than natural teeth!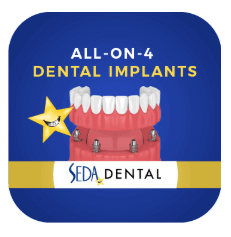 A Uniquely Contoured Shape
All on four dental implants in Boca Raton follow the natural "U" shape of your mouth, so there's no bulky plate covering your palate. The extra room makes it easier to talk with and gives you back the great flavors of all of your favorite foods.
Plus, since hybrid implant dentures are permanently affixed to the four implants underneath, options like All on Four implants can give you your confidence back. There are no gooey adhesives or strips to hold your appliance in place.
What to Expect When
you see one of SEDA Dental's Boca Raton implant specialists, you can feel confident knowing you'll get the best treatment possible.
Since your mouth slightly changes shape after initial implant placement or extractions, our Boca Raton implant dentist will need to update your fixed appliance a few months later. However, you won't ever have to go around with missing teeth!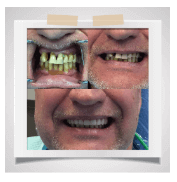 Looking for Same Day Dental Implants?
For the best implant dentist in Boca Raton, call SEDA Dental! Our network of Florida practices has implant specialists (prosthodontists) who are able to complete your entire transformation from start to finish.

Book your consultation at our Boca Raton office today to find out more and for a complimentary implant costs estimate.